In the Name of Progress

Solo Exhibition
Galerie Division - Montreal, QC
2018


In the Name of Progress visits motifs passed down through Monnet's family by generations of matriarchs. Employing rigid lines and elemental materials, the artist underscores the endurance of her culture's visual language, a language only now being welcomed into the art historical canon. If her homage grants Indigenous visual identity its historical due, it does so in a way that splits with the traditions to which she is paying tribute. By tracing her roots to her own contemporaneity, Monnet describes a dynamic and ever-evolving history. The notion of progress is manifested in the dialogue surrounding Monnet's work, as well as in its subject. In her series of pyrographies, she examines the indelible marks left on her ancestral land in the name of progress.

Burned into white cedar, an indigenous wood, the lines and patterns passed down by her ancestors become a metaphorical map and a testament to the distances traveled by Indigenous communities over the centuries. These displacements assumed particular significance with the introduction of reserves, as the Algonquin Anishinabeg nation was displaced from Oka to Maniwaki, its territory converted into seigneuries, and its forests assarted. Sourced from Maniwaki, her carved wood panels suggest the land divisions imposed by seigneurial rule. We also detect in their burned patterns a resemblance to microchips, a fitting contemporary analogue to the deep stores of historical information transmitted through the ages by the artist's ancestors.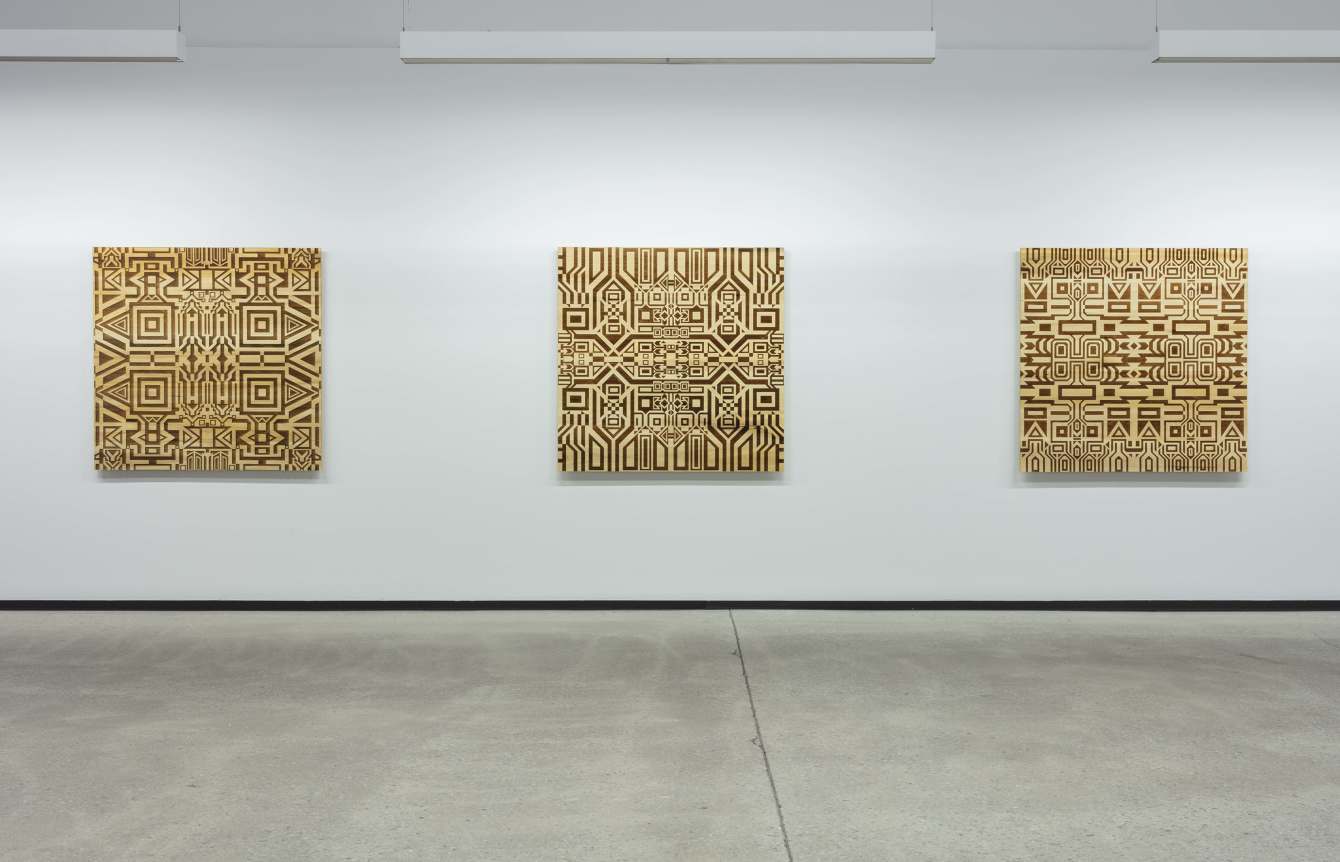 Exhibition views at Galerie Division, 2018
In the Name of Progress
, 2018
Embroidery on tyvek
48" x 36"
#VI- Rang Front-de-la-rivière-Désert
, 2018
Wood-burned engraving
48" x 48"
#VII- Rang Front-de-la-rivière-Désert
, 2018
Wood-burned engraving
48" x 48"
#V- Rang front-de-la-rivière-Désert
, 2018
Wood-burned engraving
24" x 24"
#III- Rang front-de-la-rivière-Désert
, 2018
Wood-burned engraving
24" x 24"
#IV- Rang front-de-la-rivière-Désert
, 2018
Wood-burned engraving
24" x 24"
#VIII- Rang front-de-la-rivière-Désert
, 2018
Wood-burned engraving
60" x 60"
#I - Rang front-de-la-rivière-Désert
, 2018
Wood-burned engraving
24" x 36"
#X- Rang front-de-la-rivière-Désert
, 2018
Wood-burned engraving
52" x 120"
Exhibition view at Galerie Division, 2018
Maniwaki
, 2018
Tyvek and masonite
48" x 48"
Foamular
, 2018
Engraving on styrofoam
40 ½" x 40 ½"