Modern Tipi
Solo Exhibition
Maison des Artistes Visuels Francophones - Winnipeg, MB
2012
Flashes of vivid colour cut across otherwise subdued whites, ivories, creams, and almost imperceptible pale pinks. The lines, moving at all axes across the flat canvases, recall the dynamic motion captured notably by Mondrian one hundred years ago; however, each is additionally complicated through richly detailed triangular patterns in a broad and varied palette. The colouration sometimes emphasizes Southwestern hues, other times it features the black, navy blue, bold red, and green of beadwork from the Upper and Western Great Lakes regions, which is incidentally where Algonquin and French artist Caroline Monnet was born. Occasional bursts of fluorescent pink and yellow signal retro cool.
In the artist statement for her exhibition at La Maison des Artistes Visuels Francophone, Monnet notes that
Tipi Moderne
seeks to address aspects of her personality while also contemplating the role of the tipi in modern society. In an accompanying text, Jenny Western points out that while the tipi has come to serve as a highly recognizable symbol of nomadic cultures, it is in fact only traditional to some Aboriginal people.
Monnet's linear forms stand in for the long wooden poles used in tipi construction, and the heavy canvas upon which she has painted (passed down to her intergenerationally) is likewise a nod to traditional materials. But where Mondrian's lines sought to demonstrate the tendencies of the electric lights, automobiles, and jazz new to his era, Monnet conversely cuts through time and space to show respect for the practices of ancestors. And yet, while she notes the personal character of the work, she has realized it without resorting to nostalgic sentimentalism. It is with these crisp and confident paintings that she asserts the ever-growing presence and strength of ancestral values as they continue to move throughout the ages and into the future.
-Milena Placentile

Mani
, 2012
Acrylic on canvas
60" x 60"
Anne
, 2012
Acrylic on canvas
60" x 60"
Brigitte
, 2012
Acrylic on canvas
60" x 60"
Alice
, 2012
Acrylic on canvas
60" x 60"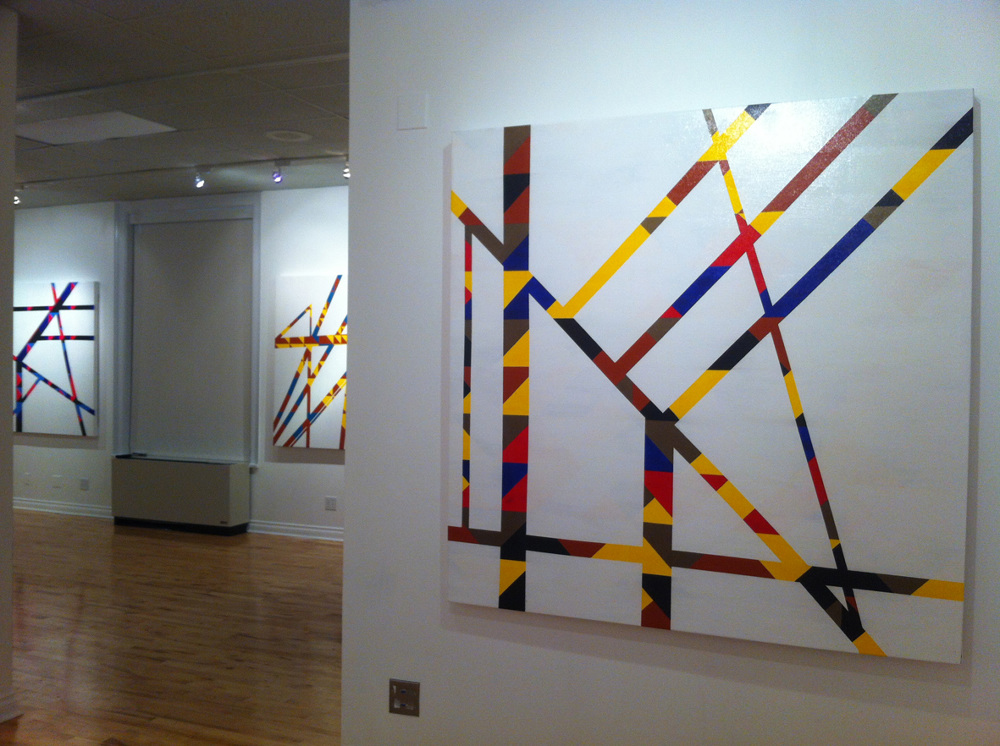 Exhibition views at Maison des Artistes Visuels Francophones, 2012