R-Value

Solo Exhibition
Galerie Division - Montreal, QC
Feb 20 - May 9, 2020


For years, the housing situation in Indigenous communities has remained grievously unchanged. In remote regions with harsh winter conditions, construction materials can be scarce and expensive. Construction financing is cannibalized for repair and upkeep, while residents and local councils are excluded from decision-making. The result is generic housing, unattuned to its environment and bearing no resemblance to traditional dwellings. Caroline Monnet's recent work grapples with colonialism's impact, updating outdated systems with Indigenous methodologies. Combining contemporary building materials and patterns transmitted across generations, Monnet creates hybrid objects. Resembling city maps and bar codes as much as they do traditional weaving and beading, the patterns she prints on, weaves into, or cuts from insulation offers a glimpse back and a path forward.
R-Value,
2020
Mineral wool and plexiglass
36″ x 24 1/2″ x 8″
The Flow Between Hard Places
, 2019
Ductal concrete
96″ x 48″ x 24″
Exhibition views at Galerie Division, Feb. 2020
Super Strong,
2020
Styrofoam
73″ x 97″ x 3 ¾″
Radiant System n. 5
, 2020
Embroidery on thermal bubble sheet
26 ¼″ x 26 ¼″ x 1 ½″
Radiant System n. 6,
2020
Embroidery on thermal bubble sheet
26 ¼″ x 26 ¼″ x 1 ½″
Radiant System n. 4
, 2020
Embroidery on thermal bubble sheet
26 ¼″ x 26 ¼″ x 1 ½″
Exhibition views at Galerie Division, Feb. 2020
We Come in Numbers,
2020
Tyvek sewn on fabric, wood
86″ x 91 ½″ x 7 ½″
Longing for Trust n.1
, 2020
Acrylic and wood
47″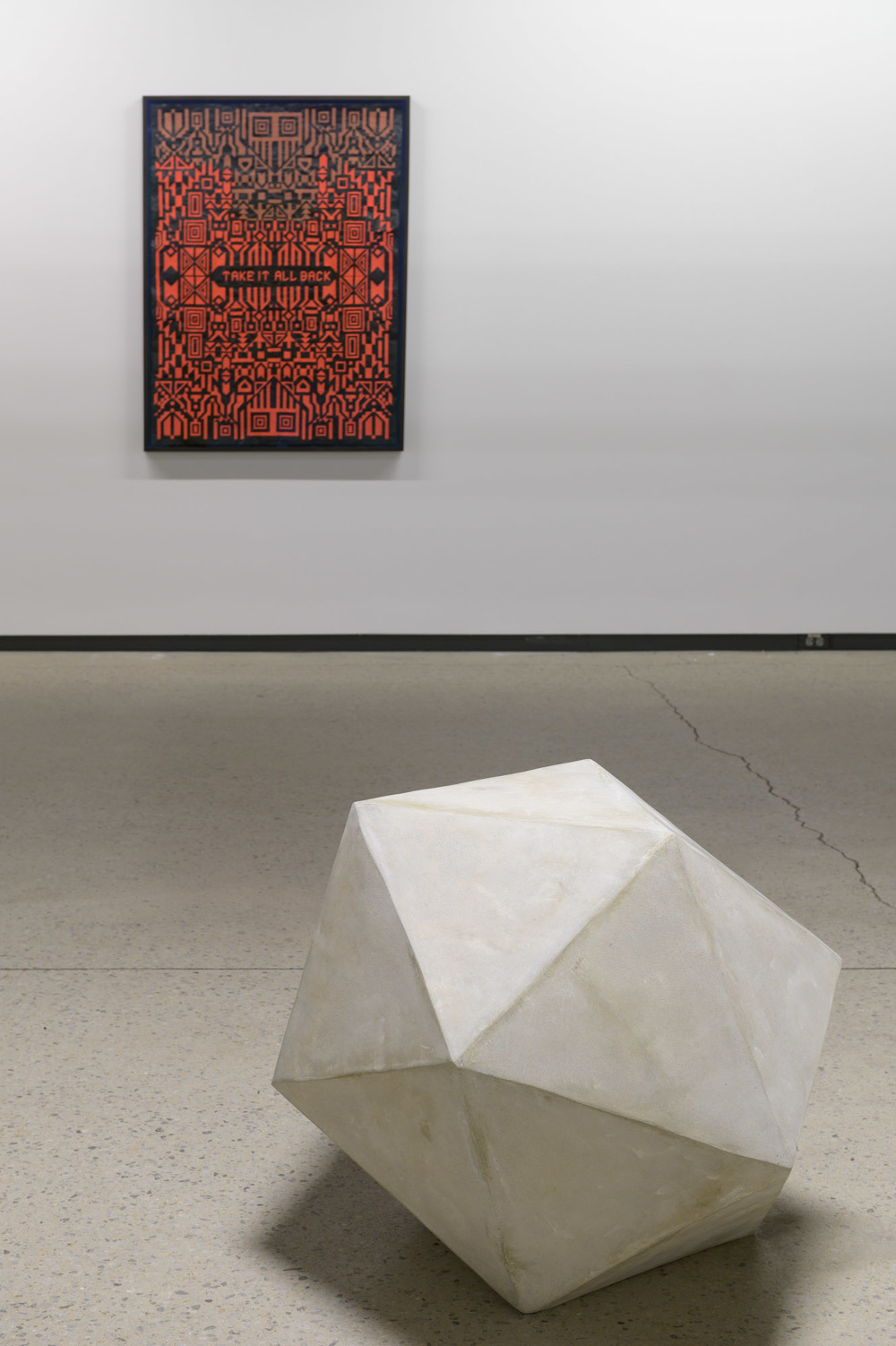 Exhibition view at Galerie Division, Feb. 2020